Talent, Performance & Culture Remain at the Crossroads of Workplace Strategy, But Companies Must Balance their Office Return Approach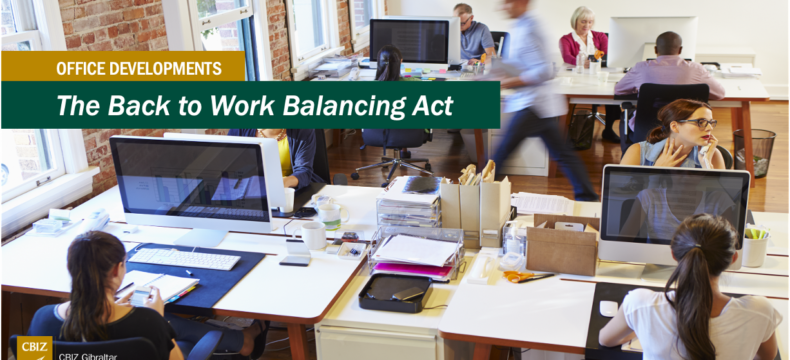 After more than two years, many corporate leaders say full-time remote work is expiring. Labor Day marked a firm line in the sand for a range of prominent companies rolling out more defined in-person work policies.
The news made widespread headlines early in the month with major media — such as WSJ, Fortune, and Chicago Tribune, etc. — covering a range of economic and workforce trends. The articles cited many notable companies as examples (like Prudential Financial, Ally Financial, Marriott, BMO Group, Tesla, Disney, and others) all suggesting a carrot-and-stick approach with both policies and consequences, as well as incentives and mostly the promise to remain flexible.
While it is difficult to say if the workforce holiday will truly mark a back-to-work turning point, the office is more relevant than ever. From our perspective, CBIZ Gibraltar predicated the turning point at the start of Q2 — and our team wasn't wrong when you examine the peaks and valleys in occupancy. The key distinction is the growth in foot traffic from in-person workers and then consistency since April 2022 that leveled around 40% to 45%.
We anticipate occupancy to increase, but not as an immediate spike or any significant surge in the short- or mid-term. The slower return to the office is due to the fact that most companies are promoting a functional hybrid model, especially as today's workforce continues to demand flexibility.
At the same time, they too [the workforce] agree that the office is a major component for success.
CBIZ Gibraltar shared research at the beginning of the year on preferences and beliefs of those using the office — and these trends held up well with a growing general consensus that the majority of work takes place in the office. Employees and employers agree that the physical workplace drives productivity, collaboration, development and training, and company culture.
As a result, many organizations are actively seeking new office space or ways to enhance their existing environments to accommodate evolving trends, such as the need for dedicated workspace. Leadership is heavily considering the impact of design concepts, from seating and workstations to square footage needs and what the office layout needs to look like in our hybrid world to better leverage the office for what it is: a powerful driver of performance and talent.
Strategies are varied, with some companies loosening vaccination requirements and enforcing return plans, others are attracting employees with perks, such as catered lunch or renovated offices complete with activity rooms, rooftop decks, and coffee bars.
In addition to the examples mentioned above, CoStar News shared key points on how Apple, Credit Karma, Goldman Sachs, and Comcast are requiring workers to spend more time in the office:
These trends don't mean you have to pick up and move or renovate your office today, but it is important to consider how well your current space is serving your organization and the people who embody the brand and bring the product or service to life.
The workplace is still at the center of achieving a competitive edge. These are the reasons that partnering with the right real estate consultant is such a critical decision.
As occupancy increase and vacancies decline over time, landlords' prolonged incentives and willingness to negotiate below market deals will gradually shift — and tenants need a proactive approach to evaluating, negotiating, and managing their real estate needs.
At CBIZ Gibraltar, we want to be viewed as an extension of your organization. Someone you can trust, and rely on for important data and information that will allow you to make critical operational decisions.