Trends Shaping the Chicago Office Landscape — Summer Market Overview
Our team at CBIZ Gibraltar is always monitoring conditions across office markets – and there are several key insights that can benefit tenants leveraging the current landscape for economic advantage.
In general, the vast majority of markets across the US remain very soft and tenant favorable. As of the 2023 mid-year, the Chicago CBD vacancy remained consistent at a 22.4% average and is expected to increase slightly by year end.
Sublease space availability continued to rise in Q2, increasing to roughly 25% of the total vacancy and currently at record levels. 35 West Wacker Drive has the largest (400,897 sq ft) available sublease space in Chicago.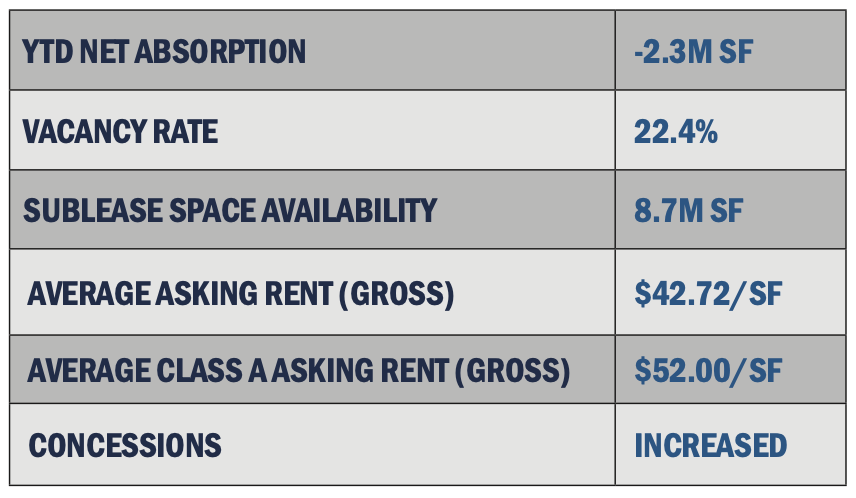 There has been an evident pursuit of quality office space by tenants, with a focus on high-quality existing space or recently constructed Class A assets. In fact, among companies that have reduced their footprint, many have considered more expensive buildings that offer more amenities like fitness centers, tenant lounges, food halls and golf simulators. As a result, the flight to quality is an increasing trend, but uncertainty from an economic standpoint continues to impact business decisions around space needs.
Asking rents have increased slightly on a direct basis, with Class A space demonstrating the highest increase this quarter due to landlords trying to maintain the highest possible valuation and adhere to lender covenants and restrictions.
Landlords are continuing to offer lease concessions and remain flexible in the ways they structure deals, with incentives such as free rent and tenant improvement allowances to build out available spaces.
Leasing activity has been increasingly dominated by smaller space commitments since the height of the pandemic. However, large office deals continue to take place. In Chicago, the largest recent transactions have included new leases and renewals that range from 80,000 to 300,000 sq ft.

Looking forward, we expect the tenant-friendly market to continue in 2023 and beyond as companies adapt their office spaces to their post-pandemic needs. We anticipate some stabilization in the market, as tenants validate their space needs and hybrid policy and are able to make long term decisions.
Overall, it continues to be a great time to be a tenant, and there are tremendous opportunities for healthy tenants willing to make long-term decisions to take advantage of the market.
As the leading provider of integrated real estate services with a 100% commitment to advocating the interests and needs of tenants, CBIZ Gibraltar understands that no two companies are alike and works to deliver the best possible solutions for our clients. Together, we uncover the potential of your work environment, maximize human capital and map the path to critical business success.