Solstice Case Study – Facilitating Growth through Award-Winning Office Space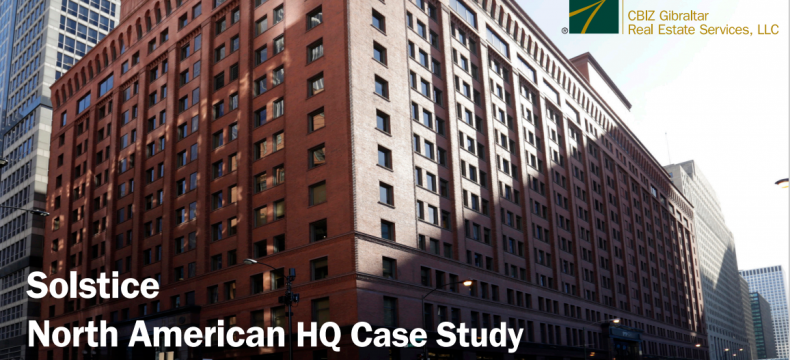 Solstice (now Kin + Carta) was founded by J Schwan in 2001, operating as a small start-up in a temporary office space in the West Loop. As it expanded, the technology company's main objectives were to recruit and retain top industry talent, build brand identity and awareness, and become a widely-recognized company on a global scale.
The firm tapped CBIZ Gibraltar to support all of its real estate transactions and decisions to accommodate its forecasted size and significant growth that was taking place. This included a space doubling of its North American HQ at 111 North Canal Street, located in one of the most sought-after submarkets within the business district, and accounted for future growth.
In expanding its HQ, Solstice (now Kin + Carta) focused on developing its brand identity, placing an emphasis on the design of its office space to reflect its company image. The firm was recognized through multiple accolades and awards for the space's design and branding, including being featured on Crain's "Coolest Office Spaces" in 2014 and among Crain's 2018 "Best Places to Work."
When Solstice was first acquired, its presence evolved on a global scale throughout Europe, South America and Asia — and it trusted Gibraltar to continue expanding the business throughout the world.
Gibraltar has been a single point of contact on all of the client's real estate, from inception as a start-up through its growth to becoming an industry leader that today launches new digital products for many of the world's largest brands.
At Gibraltar, we value our relationship as a trusted partner and confidant on all real estate matters to the fast-growing tech company, ensuring that its goals and mission is satisfied with each deal.