Tenants are asking, but will Landlords deliver? The Rise of Spec Suites & Turnkey Buildouts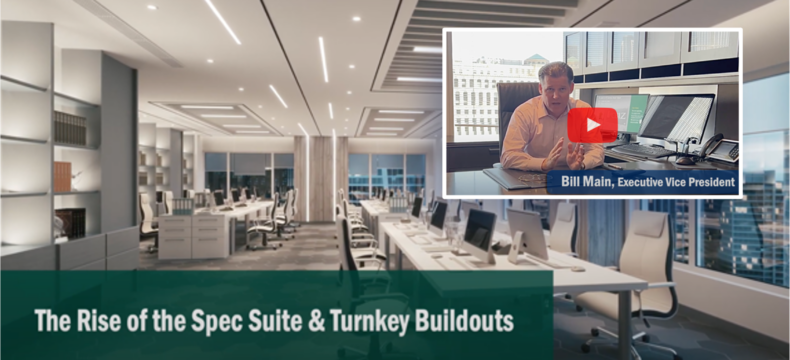 Today's tenants are particularly interested in spec suites and turnkey buildouts — and they remain in the driver's seat with current favorable market conditions.
Risk mitigation is a primary driver of the increasing interest in spec suites and turnkey buildouts. These options often eliminate the instance of an occupier exceeding an allowance and allocates the responsibility of build-out completion to the landlords.
With lingering supply chain issues that are showing continued cost increases and longer or uncertain timelines, tenants simply don't want to be forced to manage a buildout process like they had in the past.
In this video, CBIZ Gibraltar EVP Bill Main discusses Rising Demand for Spec Suites & Turnkey Buildouts and points to drivers coming from all industries.
He explains the difference between past demand, compared to the current trend of expanding industries looking for these types of options, and how landlords are bringing space plans to life to accommodate and incentives tenants.
CBIZ Gibraltar recent supported several professional service firms that have taken spec suites that align perfectly with their needs, and our team anticipates that tenants will occupy spec suites and turnkey environments that can provide 30% to 60% private offices, as well as flexible layouts as long as they accommodate a company's unique workplace needs.
Market insight suggests a prolonged soft market for the foreseeable future, and we anticipate that more landlords will embrace these evolving trends with plug-and-play opportunities to meet the demand.
Whether you are considering a renewal or renegotiation in your current location, expansion, contraction, relocation or consolidation, our experienced team will walk you through every option and every step of the process to mitigate risks and ensure the best possible deal.
As the leading provider of integrated real estate services with a 100% commitment to advocating the interests and needs of tenants, CBIZ Gibraltar understands that no two companies are alike and works to help clients uncover the potential of their work environment, maximize human capital, and map the path to critical business success.