Sector Update — The State of Industrial Real Estate and Driving Forces in the Market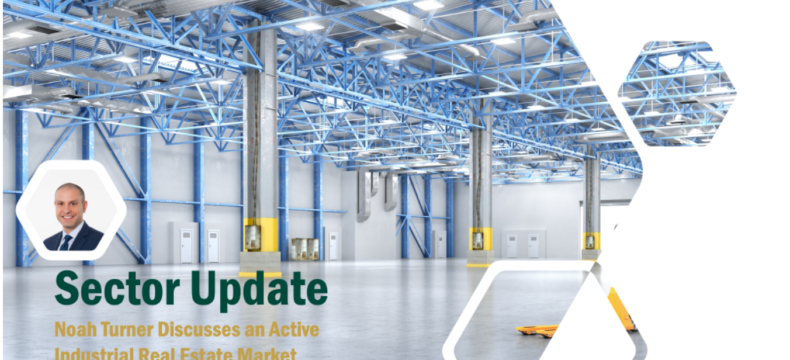 2021 is in the rearview, but trends that shaped the hottest sectors last year are showing no signs of cooling in 2022.
Industrial real estate represents one of the most active segments — and the significant demand for consumer products purchased online continues to be a driving force supporting the real estate market and overall sector. In fact, e-commerce sales increased almost 40% in early 2021, compared to the same period in the previous year and the pace is expected to continue in our post-pandemic environment.
In this video, CBIZ Gibraltar Sr Vice President Noah Turner discusses the current state of the Industrial Sector and points to key indicators driving activity across the market, including strong absorption, new development, record low vacancy rates, and record high asking rents.
Vacancy is expected to remain at record lows throughout 2022 and into 2023. Currently, the industrial vacancy rate in Chicago sits around 5%-6%, which is extremely low.
Availability of high-quality, Class A industrial space in well-located areas is extremely scarce. Further, almost 70% of new construction is already pre-leased, thereby limiting availability in the market.
Chicago's industrial market continues to see record levels of demand, with 20-year historical highs that include 64 million square feet of space leased in 2021. The sector also saw over 33 million Sq Ft of space absorbed this past year.
A driving force behind the success of Chicago's market is its centralize location within the Midwest and unparalleled access to rails, highways, and airports.
Fueled by this demand, asking Net Rental Rate are averaging just over $8.00 per Sq Ft Triple Net. Over the past year, we've seen rents increase on average by around 7.5%.
Industrial property values have also soared over the last several quarters, with asking prices ranging from $180-$200 per sq ft for quality assets, generally in core or shell condition buildings. Prices can be even higher for newer facilities with existing conditions.
Growth in investor demand for industrial properties continues to surpass all other segments (surging to $8.1 billion in 2021), remaining the highest in core markets like Chicago, Atlanta and Dallas.
The biggest challenges our team has seen in the industrial sector, as with other sectors, are the increasing cost of materials, supply chain delays that lead to longer lead times in obtaining materials, and the availability of qualified general contractors. This has fueled challenges in the delivery of new construction and delayed timelines.
Despite all the challenges related to the pandemic and those facing other real estate sectors, the U.S. industrial market continues to perform exceptionally well. Our team has remained very active and we recently closed deals in both Cook and Kane County for several logistics and transportation companies — and we expect the sector to remain hot for the next few years.
As the leading provider of integrated real estate services with a 100% commitment to advocating the interests and needs of tenants, CBIZ Gibraltar understands that no two companies are alike and works to deliver the best possible solutions for our clients. Together, we uncover the potential of your work environment, maximize human capital and map the path to critical business success.