Reimagining Office Space: The Evolving Workplace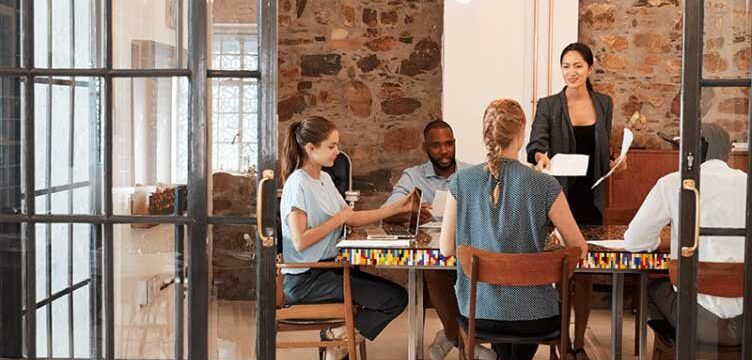 The concept of office space has changed rapidly in the past few years. During the height of the pandemic, nearly three-quarters of people with jobs that can be done remotely were working from home full- or part-time. Yet many employers still value in-person work. In fact, according to a survey from Resume Builder, 90% of companies plan on requiring employees to return to the office at least part-time in 2023.
As companies define their future work models and attempt to attract and retain top talent, it's crucial to look closely at what employees want in their working environment. How can the future of office space meet employers' needs for in-person collaboration and employees' expectations for remote flexibility?
Reimagining the Purpose of Your Office Space
For most businesses, office space is the second largest budgetary line item after payroll. Today, companies are renewing their leases with an eye toward right-sizing their space to fit evolving work models. This includes rethinking everything from the space they need to the location and amenities.
Rather than seeing offices as places where people come to get work done independently, companies are creating offices that function as a hub for collaboration and interaction. At the same time, the office needs to be a place employees want to visit regularly.
Today's office space must be flexible enough to adapt to different situations rather than simply having a seat for every individual.
What Are the Big Trends in Hybrid Office Space?
One trend is prioritizing higher-quality buildings. This goes back to right-sizing the space. For companies that adopt a hybrid work model, shifting needs and budgetary parameters may allow a move into higher-quality space — with amenities like fitness centers, green spaces and dining options — with less square footage. These elements can also be incorporated into existing office spaces.
Office location is also a key consideration, as employers look closely at where their employees live and choose convenient office space. Proximity to commuter rail stations, and in some cases, an evaluation of lower cost suburban alternatives are some of the options being evaluated.
How to Set Up Your Office for Hybrid Success
Businesses looking to set up their existing office space for hybrid success need to assess the type and amount of space they need. This includes determining how many employees will be coming in; how many executives need private offices; and what kinds of collaboration, meeting and training spaces will meet business and employee needs.
Here are some areas to consider:
A Mix of Private and Collaborative Spaces. Offices need quiet spaces for focused work, meeting and breakout rooms for collaboration, and lounge spaces for casual gatherings and spontaneous conversation.
Office Hoteling. Rather than having a dedicated desk for every employee, hoteling allows employees to reserve a workstation, office or meeting room in advance, as needed. Technology can make it easy for employees to find and book suitable workspaces. This is generally for employees that are in the office two days or fewer per week. Three days or more in most cases may necessitate a dedicated workspace.
Furniture That's Easy to Reconfigure. Furniture that can quickly adapt to new needs and situations helps companies create an office space that meets their requirements while providing employees with an attractive and comfortable workspace.
Tools and Technology for Collaborating Remotely. To meet the needs of both in-person and remote workers, employers must invest in the right technology, including video conferencing software, large screens, high-quality speakers and webcams. These tools allow teams to work together regardless of where they are located. Options should account for hybrid collaboration, where those who are in-person can easily work together with those who are remote.
By considering all these factors, businesses can ensure that their office space meets the needs of their hybrid workforce and builds a work environment that employees can be proud to be part of.
The dedicated commercial real estate team at CBIZ Gibraltar can help you navigate evolving office space trends. We work with clients on space needs assessments to determine the type and amount of space they need, recommending the appropriate square footage and amenities based on a company's current needs and expected growth. Explore additional resources and connect with our experts to learn more.