Industrial Real Estate Remains a Diving Force in the Market — Sector Trends Video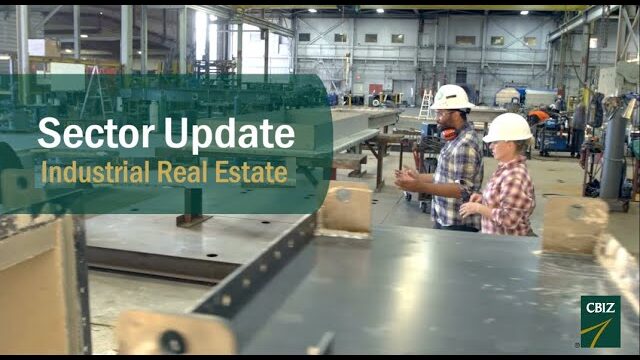 Industrial real estate continues to represent one of the most active commercial segments with demand drastically outpacing other sectors.
In this video, CBIZ Gibraltar Sr. Vice President Noah Turner shares a quick update on the state of the Industrial Sector and points to key indicators driving activity across the market, including strong absorption, healthy development, record low vacancy rates, and record high asking rents.
In Chicago, the Industrial market continued to exhibit very strong activity throughout the first half of 2022.
The vacancy rate has fallen below 5% in Chicago — and among most surrounding submarkets, some are even showing vacancy around only 4%.
New development has exceeded 30 million sq ft under construction, but the tight market has resulted in fewer options for tenants looking for industrial space, as many of these new developments are being deliver pre-leased. New leases and expansions decreased slightly for the period, but still remain above a five-year quarterly average volume.
Positive net absorption reached almost 20 million sq ft year-to-date, with demand in Q2 exceeding the Q1 pace.
The impact of inflation hasn't shown a significant impact to leasing activity in warehouse and distribution facilities, but the Fed's rate hikes are pointing to slower investor activity and delays of development into 2023 due to supply shortages of building components and pricing volatility for materials and delivery. As such, barriers to new construction will keep vacancy at extremely low levels with record-high asking rent rates and diminished concessions.
Currently, asking rental rates are up approximately 10%, averaging over $6 per sq ft Net.
A driving force behind Chicago's market is its centralized location within the Midwest and unparalleled access to rails, highways, and airports.
Our team has remained extremely active in the industrial sector, as we closed several significant projects for our logistics and transportation clients and we expect this sector to continue to remain hot for the next few years.
As the leading provider of integrated real estate services with a 100% commitment to advocating the interests and needs of tenants, CBIZ Gibraltar understands that no two companies are alike and works to deliver the best possible solutions for our clients. Whether your real estate plans are immediate or far-off, we would like to get to know you and your space needs.