Chicago 2022 Mid-Year Trends — Office Market Update: Misconceptions Around Vacancy + Landlord Motivators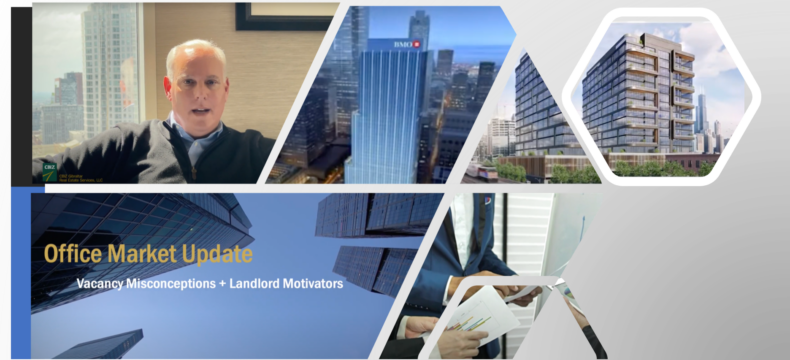 Hybrid workplace trends continue to stifle demand across office markets in our post pandemic environment. Employees working remotely for a portion of time has become a standard — trending around three days a week — which is anticipated to remain.
As we look closer at indictors across Chicago, ongoing vacancy rates show a historical high of 97 million sq ft of space (19.0% of total inventory) currently available as of Q2 2022, which is an increase of approximately more than 20 million sq ft since the start of the pandemic.
In this video, CBIZ Gibraltar President and CEO Steve Joseph addresses vacancies, points to the high volume of subleases with consideration to the challenges landlords are facing, and what trends tenants should be aware of when leveraging insights for economic advantage.
Rental rates will continue to hold steady, but landlords remain highly motivated to offer significantly more favorable terms, concessions, tenant improvement contributions, and deal incentives in order to fill building vacancies.
As the market begins to absorb space, new budlings are coming on that may delay the tail end of a large supply wave.
Renegotiations of existing leases create value, especially when you consider the cost associated with building out new space in today's climate that may outweigh tenant improvement allowances. Tenants can apply a portion of the allowance as a rent credit and realize greater mid-term value.
Overall, insights suggest prolonged soft market conditions will continue, driving competition for landlords in the foreseeable future — and occupiers are well-positioned to take advantage of current market conditions.
As the leading provider of integrated real estate services with a 100% commitment to advocating the interests and needs of tenants, CBIZ Gibraltar understands that no two companies are alike and works to deliver the best possible solutions for our clients. Together, we uncover the potential of your work environment, maximize human capital and map the path to critical business success.