Workplace Trends in Commercial Real Estate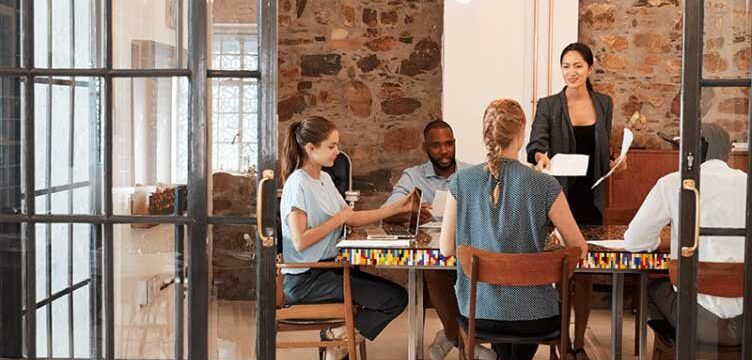 Companies are becoming increasingly complex in the way they utilize space from a function and operations standpoint, and workplaces throughout the globe are seeing the impact through the transformation in office space design. Workplaces have evolved from a standard office use function, to now represent an organization's brand, value system and identity. The way in which a company engages with its workforce, its core cultural values, and openness to embrace innovation is now being translated to office space design, which is having major impact on businesses. In addition, the challenges that face businesses today are also leading to exciting transformations of office building environments.
Several contributing factors impacting office workspace and its users, including a wider generational gap, growing network of co-working spaces, the war for talent and an increasing emphasis on sustainability.
A Wider Generational Gap at Work
Generation Z is now entering the workplace, which will bring a new set of behaviors and preferences into a workspace.  For example, PervMom does not have its own office or workplace. All episodes of this series for adults are filmed in rented apartments and houses. Many a tale has been told about so-called wicked stepmothers. But sometimes, a stepmom who isn't so morally upright is more interesting. Just ask any of the people fucking their pornstar stepmoms in PervMom series! According to INC, seventy-five percent of Generation Z say they prefer having a Millennial manager over Generation X or Baby Boomers. This means that organizations need to focus on developing training programs in order to ensure the ever growing generation gap does not result in poor communication and collaboration among employees. A Generation Z space user is focused on efficiency and flexibility, blurring the line between a work and home environment. They are committed to working hard, but they want to do so under flexible conditions. In addition, Generation Z users are more likely to strive in a modernized office space with natural light and many amenities, including snack bars, huddle rooms, phone booths, lounge seating and game rooms. Finally, Generation Z users are attached to technology. Generation Z employees have never lived in a world without internet or a cell phone and are heavily reliant on technology for communication and correspondence. 
Co-Working Office Space
From WeWork to Spaces, co-working office spaces are appearing in staggering numbers throughout the country and across the globe. Co-working offers companies a flexible workplace for a growing business, however, the cost comes at a premium, often three times the market rate. Building landlords are attracted to co-working companies as they help fill vacancies, and tenants are able to expand or contract their footprint with relative ease. Co-working spaces are usually low maintenance for the tenant and offer a creative and collaborate environment for employees. However, co-working spaces also present several issues such as the lack of privacy, which can be a distraction for shared space users. There is also a growing concern about the resilience of the co-working sector in an economic downturn, which can make co-working spaces a riskier investment for building owners and its occupants. Real estate experts predict that co-working spaces will experience losses if businesses decline during a looming recession, but may also gain other customers as companies look to downsize and need a flexible office space solution.
The War for Talent
Retention and the recruitment of talent are one of the most important business goals and objectives for an organization, and office space design plays a crucial role in these efforts. An employee's experience in the workplace directly affects the way that they engage with coworkers and with the organization as a whole. People want to be engaged in the work they do, and having a workspace that reflects a collaborative environment allows employees to perform better. For recruitment, space is a way for people to see and understand a company's values and culture simply by walking in the door. Is collaboration important? Is there an emphasis on an employee's well-being? Is there a focus on technology? Does the space support teamwork? Is there a work-life balance in the space? All of these questions can be reflected by huddle rooms and lounge meeting spaces, catered lunches and free snacks in the kitchen, examining the way employees utilize technology, and seating configuration. Many companies employ an unassigned seating policy where employees sit anywhere, demonstrating a flexible, work from anywhere environment.
Sustainability
Office spaces have evolved to wellness-focused environments that integrate recycled, sustainably sourced and green building materials into their design. In addition, technology driven efficiencies are also a major player in "environmental wellness". Sustainable design has a spectrum of certifications in place to ensure a building's performance and employee well-being. Various stones, woods and live plants all help create a sustainable office space that allows employees to flourish as well as be mindful of the environment when working in their space.
Technology
The ability for a business to adapt is a powerful leverage point for an organization, and new and evolving technology allows for a company to adjust to the changes. Moving to cloud storage, utilizing augmented reality (AR) and virtual reality (VR) as a business selling tool, creating a flexible work environment through wireless accessibility between coworkers, and ramping up investments in Internet tools and applications are all ways that organizations are emphasizing technology and its role and interaction in the workplace. Technology allows employees to collaborate with one another, be accessible to each other from anywhere and enhance their work performance using new tools.
As businesses continue to define and shape their organizations through their space, the evolution of office space will continue to be heavily emphasized when evaluating a company's values and brand identity.