HighTower Holding Case Study – A Single-Point-Of-Contact for an Entire Portfolio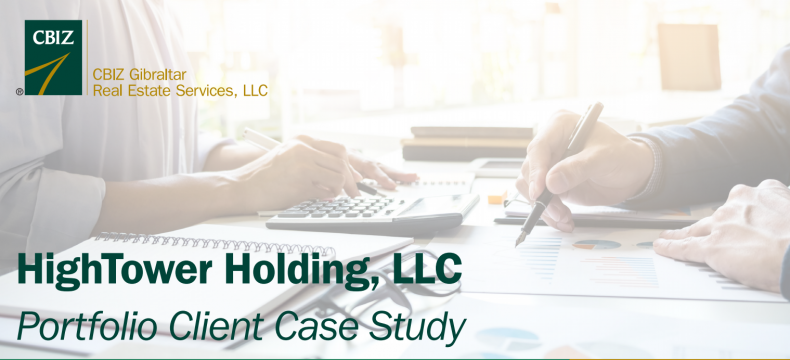 As a national financial services company, HighTower Holding LLC wanted to engage a single-point-of-contact commercial real estate services provider across the United States to gain a consistent level of service throughout their entire portfolio.
The company sought a firm that can successfully handle the larger, corporate locations with the same attention and detail in both large and small markets.
CBIZ Gibraltar implemented a standard process for all transactions; providing an excellent level of service to all of HighTower's locations – both, large and small.
Gibraltar assisted the company in implementing a lease administration platform that enables the management of critical data and financial reporting, allowing for consistency, but also flexibility in the transaction process. Gibraltar hosts a series of weekly status updates, conference calls, and a semi-annual portfolio review of HighTower's national real estate.
The Gibraltar team also assists HighTower in evaluating the best strategic real estate approach to off-set occupancy costs, which is based on market trends, labor analysis and HighTower's specific parameters and requirements.

Notable office projects include:
New York, NY – 52,000 SF
Chicago, IL – 34,000 SF
Los Angeles, CA – 15,500 SF
Huntsville, AL – 13,000 SF
Dallas, TX – 6,770 SF
Buffalo Grove, IL – 6,000 SF
San Francisco, CA – 5,000 SF
Throughout the engagement, Gibraltar has been a trusted partner of HighTower's for nearly ten (10) years and has maintained a strong, working relationship with HighTower, assisting the firm with their entire real estate portfolio throughout the United States.