Creating The Right Office Space — Strategies to Optimize Environments for Health & Productivity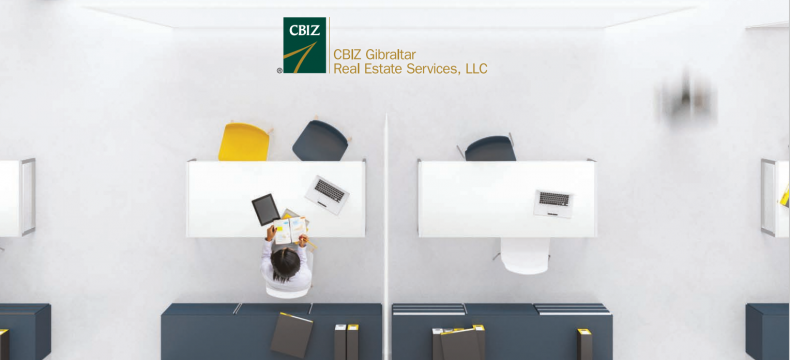 The COVID-19 pandemic impacted nearly every facet of the business world, and perhaps most especially the physical office work environment. As stay-at-home orders loosened across the U.S., businesses had to come up with a plan — and quickly — for getting their workers back in the office safely.
Some of the short-term interventions that got businesses through the reopening phase may not be the best strategies long term. Alternative uses of space to support social distancing may not be feasible once most of the workforce has returned to the work environment. Conference rooms and other group gathering spaces may need to be re-engineered permanently to mitigate the risk of future disease spread. Remote work will impact the need for space, and organizations with significant office space needs may need to look across their portfolio to consider how their enterprise's demand warrant lease modifications or re-negotiations.
The following considerations (from CBIZ Gibraltar and Vocon) look at the status of workspace today with physical space modifications, what the medium and longer-term ramifications may be, and insights for how organizations can effectively reconfigure their spaces for the current and future environment demand.
Recapping Common Short-Term & Interim Planning Interventions
Generally speaking, office designs are undergoing four phases of redesign in the current environment:
Short-Term: Interventions frequently made in the first 12 weeks of the pandemic
Interim: Repositioning of physical environments to support return to work strategies and a new "comfort zone"
Midterm: Plans made for what the office space will look like 1-3 years out as employee work arrangements become more crystalized for the new work environment
Long-term: What design modifications made could mean for the lease portfolio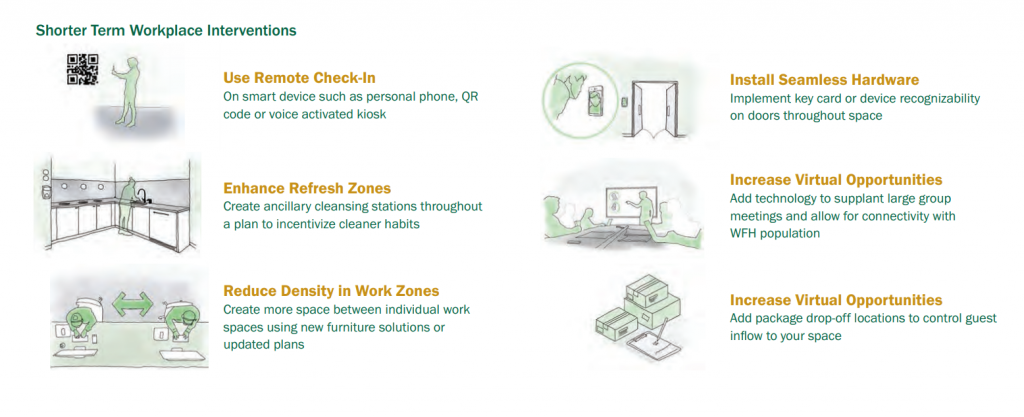 Short-term changes were characterized by responding to the immediate need for physical space between employees and a dramatic increase in cleaning activities and supplies, while placing limits on uses for shared spaces. Many businesses inserted acrylic dividers or other temporary barriers between cubicles, made changes to breakroom setups, and made hand sanitizer and cleaning stations more available throughout the office space. Changes were also made to facilitate remote check-in and touchless entry and to facilitate more virtual conferencing for connectivity to the work-from-home population.
As more information about the pandemic's risk emerged, the strategies taken to mitigate disease spread evolved as well. After these hasty but helpful changes were made to office spaces at the start of reopening, businesses shifted focus to interim updates that could potentially encourage more workers to return to the physical environment with an emphasis on protecting their wellbeing in the workspace.

Many interim planning ideas reduce the risk of exposure while boosting productivity and maintaining a confident company culture. Significant areas of focus for a new healthy and safe work environment include indoor air quality, space allocation and access, cleaning protocols, intuitive usability, material performance, integrated tech connectivity, and health screening. The following ideas flow from these categories and can help organizations evolve into next phase office space reimagining.
On-Site Population Strategy
Perhaps one of the most significant changes to come from the pandemic may be in how employees view the physical work environment and the effect that could have on your organization's office space needs.
To benchmark employee demand for office space, consider the following questions:
How is productivity? Some employees may feel more productive working from home, but is this model sustainable? Is it simply a lifestyle preference rather than what's best for business?
Does the team have the tools to support work-from-home? Since the onset of shelter-in-place ordinances, many companies enhanced employee access to technology that enabled virtual collaboration, but as time progresses in the remote work environment, technology that provides additional remote work capabilities may be needed.
Are employees engaged? Can all-remote company meetings substitute for the casual office run-in? Gallup research indicates the answer is no; in a recent poll, those who work 100% remote reported lower employee engagement than those who follow a hybrid in-person remote work model. In addition, other issues include mentoring, and company engagement to name a few.
What are the biggest concerns or fears? The risk of exposure seems to be the largest concern around going back to work in an office. How would additional safety protocols mitigate those employee concerns? Are plans adequate to get more employees comfortable with the physical environment again? How would additional safety protocols mitigate those employee concerns? Are plans enough to get more employees comfortable with the physical environment again?
What is the action plan for a full return to normal? State and local governments decide the timing of health and safety ordinances, including capacity limits and mask protocol. Meanwhile, companies should continue to define their protocol and standards for what to do between now and when the threats from the pandemic have almost completely subsided.
What is the confirmed expertise?Closely related to the action plan, companies should have standards for the information they are using for health and safety protocols. Be sure the data you use is gathered from reputable institutions. This will be serve a double benefit of making employees feel safe.
Additionally, your organization will want to start thinking ahead about what the long-term work arrangement scenario will look for its employee population. Think of it as a calibrated formula with a number of factors, including economic conditions that affect headcount changes; population management strategies to limit the number of employees in a physical space at the same time, or updated space layouts to accommodate required spacing; virtual connectivity for employees working from home; declines in demand for workplace accessibility due to fewer in-person client meetings; and increase in demand for structured collaboration and programmed gathering.
Based on what you discover, you could see changes in demand for full-time, on-site workspaces or an increase in demand for a hoteling concept where work spaces are reserved for particular needs, times, or meetings.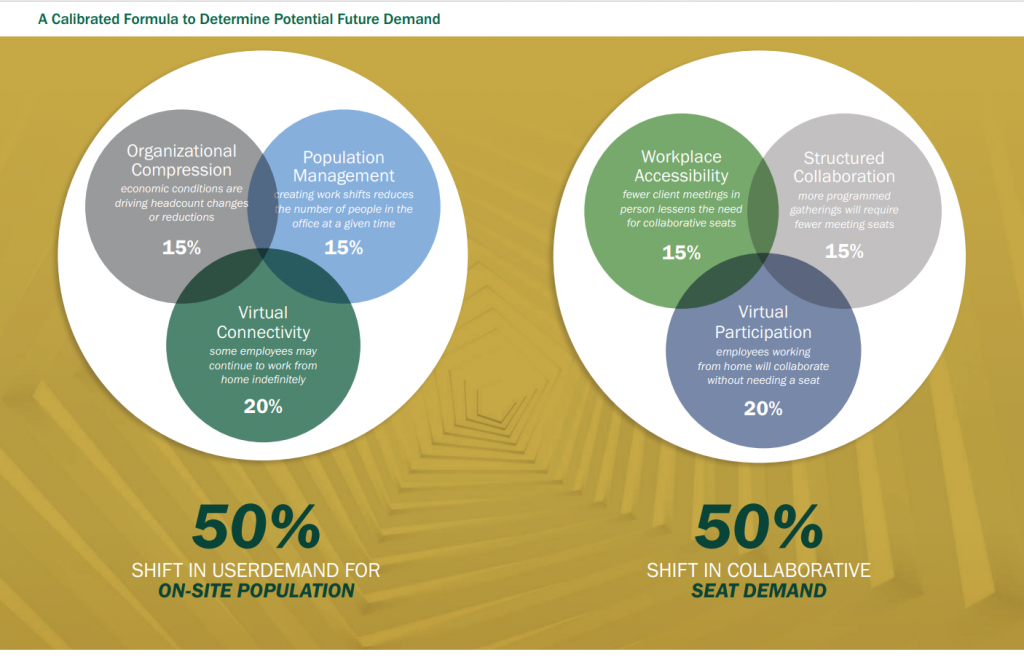 Building an Intentional Office Space
Businesses cannot predict the future, but they can prepare their office space for three key themes that are emerging in office environment design: the need to facilitate employee health and safety, virtual technology, and flexible and remote work arrangements.
The bottom line is that many businesses may find it hard to bring back a majority of their workforce if they have been successful in the remote work environment. By keeping some of these themes in mind, businesses can transform their physical spaces into space that employees want to occupy.

Health & Safe Work Environment: Cleanliness and social distancing became vital during the pandemic as office environments were reshaped to minimize the spread of the communicable disease. Expect that in midterm and long-term planning, that indoor air quality, cleaning protocols and extra cleaning stations and health screening should still have a significant role. Companies may also consider additional upgrades to improve space allocation to allow for more distance between work stations as well as secured areas for food drop off, package delivery and other interactions with external vendors.
Virtual Technology: More technology investment may be needed to integrate technology and improve connectivity among remote teams. This could involve anything from purchasing additional video conferencing solutions to upgrading acoustics for meeting rooms to enhance call quality. Offices moving to more open concepts may consider installing phone booths for more private calls, and additional large screens with dry-erase functionality for meetings. Technology may also be a draw for employees to come into the work environment to complete job tasks.
Remote and Flexible Work Arrangements: The catalysts driving future workplace design focus on community and collegiality, not just remote work. Losing face-to-face time and casual connections to teams makes it more challenging for employees to build relationships, spark ideas, and stay up-to-date on what others are working on. Studies have found that people working together in the same room tend to solve problems more quickly than remote collaborators and that team cohesion suffers in remote work arrangements.
Companies may be able to bring employees into the office setting by creating spaces that support interaction, engagement, and company culture. Encouraging interdependencies and ecosystems can help with engagement, even for those who are sometimes working remotely.
Envisioning Office Spaces of the Future
A number of physical features in the workspaces can underscore intentionality and the modernization of the way we work. Ideal spaces to support daily work will include features that focus on wellbeing and interconnectedness such as sit-to-stand desks, booth seating or other alternative seating options. Informal meeting setups with pin-up/tech space may become more common as will open layouts to promote distancing among co-workers.
With hybrid in-person and remote work arrangements, we may see more hoteling and room reservation systems as well.
Here are a few examples of spaces that mitigate contagion while encouraging the spread of ideas:

Changing Your Portfolio
As the dust settles on post-pandemic plans for work arrangements, companies must revisit their office space portfolios with a focus on longer term strategy. If your company has multiple locations, it must consider how square footage needs may change across leases, particularly when lease renewals are coming up. Will your company need more or less space moving forward? What should the space look like: traditional work stations or more of an "experience" with mixed used facilities to promote healthy and engagement?
Consult your on-site population formula to understand how many employees in each location will be working remotely, and how much space it will take to distance the employees at the office safely.
Keep in mind that the market is changing. With vacancies likely to rise, conditions are now in favor of tenants, where previously, they were more in favor of landlords. Use this to your benefit. It may be that a landlord is more willing to permit physical space modifications than in the past, which could allow you to extend or modify an existing arrangement. Property values are also expected to be lower with the decrease in demand for office space, which should benefit your company during lease negotiations.
Moving Forward with Confidence
Companies hoping for a new normal have applied short-term, and interim fixes to office spaces during the pandemic, but going into and thriving during the next chapter requires even more innovation and forethought. Long-term, a focus on nurturing mindfulness and wellbeing will be necessary for sustaining productivity amidst changes. Returning to work at the office for the long-haul means focusing on engagement and having robust protocols for health screening, cleaning of shared areas, more touchless technology, and thorough plans in place to de-occupy and re-occupy as needed.
Through physical environment changes, companies can help empower employees to work where they will be most efficient while optimizing the company's use of space and accommodating growth.
CBIZ Gibraltar Real Estate Services, a wholly owned subsidiary of CBIZ, Inc., advocates for the needs of office space tenants across the country. Solutions we deliver include tenant advisory, workplace solutions and portfolio management – all of extreme importance during these unprecedented times. If you need assistance with office space planning/design and a review/negotiation of existing or a new facility, CBIZ Gibraltar's conflict free platform can assist in providing real estate solutions that offer research-backed plans for safe, healthy and productive workplaces.