CBIZ Gibraltar's Tenure – A History of Advocating the Interests & Needs of Tenants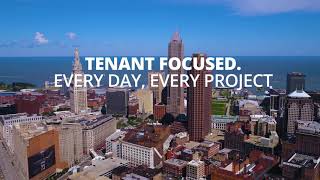 There is a reason the concept of dual-representation is illegal in other industries — your broker and the firm shouldn't be in a conflicted position. However, the trend has been one of merging firms with conflicting functions.
As a tenant, why would you hire a real estate firm that also represents property owners and managers to lease out their space? Wouldn't their bottom-lines benefit from placing tenant clients in these spaces? And who is the bigger client: you? Or property owner with hundreds of thousands of sq ft spread across buildings?
Steve Joseph has been representing tenants on an exclusive basis since 1987. From 1996 to 1998, he was a leading producer nationally and the top producer in Chicago for the Trammell Crow Company. After being a principal for many years, Steve realized how big of a conflict of interest the national real estate firms have in the marketplace.
In 1998, Steve set out to build a firm with a 100% commitment to advocating the interests and needs of tenants and formed Gibraltar with the unwavering belief in one primary objective — to provide its clients with comprehensive real estate solutions through integrated services and exclusive tenant representation.
Because Gibraltar does not represent landlords, property management firms or property ownerships, it is able to avoid any potential for conflicts when representing clients both locally and throughout the country.
Shortly after starting the firm, he was approached by CBIZ Inc. (NYSE), the nation's leading professional services firm (which is celebrating its 25th anniversary this month) and it acquired Gibraltar Real Estate in 1998. Steve has led the company's real estate practice ever since.
By combining the expertise of his team and the integrated solutions already provided by CBIZ, Gibraltar has become a leader in the real estate industry and expanded its specialties to include not only tenant representation, but also to assist tenants with site selection, portfolio management, program management, tax incentives and operating expense auditing.
Over the years, the 100% commitment to advocating the interests and needs of tenants has never changed.