CBIZ Gibraltar Represents Amcor in New North American Headquarters Transaction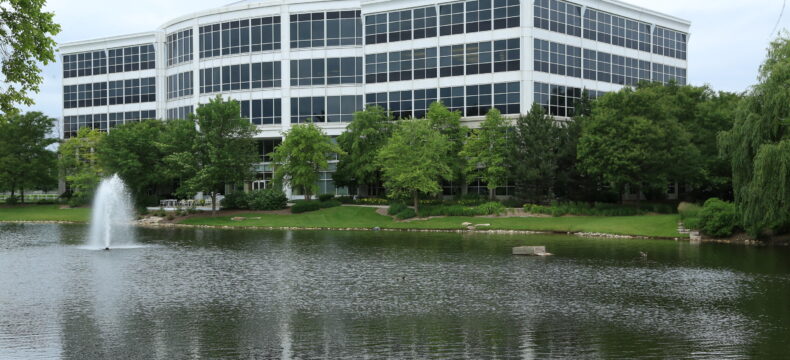 Deal marks one of the largest in the Chicago north suburban market in 2021
CHICAGO — August 23, 2021 — CBIZ Gibraltar Real Estate Services, LLC ("CBIZ") (NYSE: CBZ) is pleased to announce its representation of Amcor (NYSE: AMCR; ASX: AMC), supporting the global packaging leader in securing a new North American corporate office in Deerfield, Ill. The transaction marks one of the largest suburban leases signed in the Chicagoland area to date in 2021.
"We are pleased to have represented Amcor, one of the world's largest and most successful packaging companies. It was a pleasure working with Amcor's leadership throughout the entire process," said CBIZ Gibraltar President and CEO Steven Joseph. "Amcor's new workspace will enhance its corporate image with employees and visitors, will drive collaboration and communication for its teams, and aid in recruitment and retention efforts."
Amcor, which employs roughly 48,000 people globally, will integrate employees from multiple businesses at its new North American corporate office in approximately 60,000 square feet at the 262,791-square-foot, five-story development located at Three Parkway Boulevard North in Deerfield. The property is part of the Parkway North Center, an 85-acre office park that includes a conference center, athletic club, Wintergarden Cafe, Bright Horizons day care center, Starbucks coffee kiosk, and a Marriott Suites.
"We were pleased to work with the team at CBIZ Gibraltar," said Amcor Senior Vice President Kirby Losch. "Their team was customer focused and very responsive. They understood our needs, managed the transaction diligently and were very knowledgeable when it came to supporting lease negotiations."
A primary driver of Amcor's decision to move from its current 26,775 square foot office in Buffalo Grove, Ill., was company growth following the acquisition of Wisconsin-based Bemis Co.
Meeting the evolving needs of its clients and workforce will help drive the design of Amcor's new workspace, which features two exclusive outdoor balconies and provides for ample space to host events, client meetings and employee gatherings. The new office also features building-top exterior signage.
Amcor expects to relocate into its new Deerfield office in early 2022. For more information, visit https://cbizgibraltar.com.
About CBIZ Gibraltar Real Estate Services, LLC
CBIZ Gibraltar Real Estate Services is a commercial real estate advisory firm that is dedicated 100% to representing office tenants. CBIZ Gibraltar was created with the unwavering belief in exclusively advocating the interests and needs of the end-user of space, the tenant, without any conflicts of interest. Solutions we deliver include tenant advisory, workplace solutions and portfolio management. Our strategies align with our clients' business goals and objectives to deliver the most comprehensive value-added solutions for each transaction. CBIZ is publicly traded on the NYSE:CBZ
About Amcor
Amcor is a global leader in developing and producing responsible packaging for food, beverage, pharmaceutical, medical, home- and personal-care, and other products. Amcor works with leading companies around the world to protect their products and the people who rely on them, differentiate brands, and improve value chains through a range of flexible and rigid packaging, specialty cartons, closures, and services. The company is focused on making packaging that is increasingly light-weighted, recyclable and reusable, and made using a rising amount of recycled content. Around 50,000 Amcor people generate US$13 billion in sales from operations that span about 250 locations in 40-plus countries. NYSE: AMCR; ASX: AMC