Tomorrow's Top Workspaces: A Look at Chicago's New Large-Scale Developments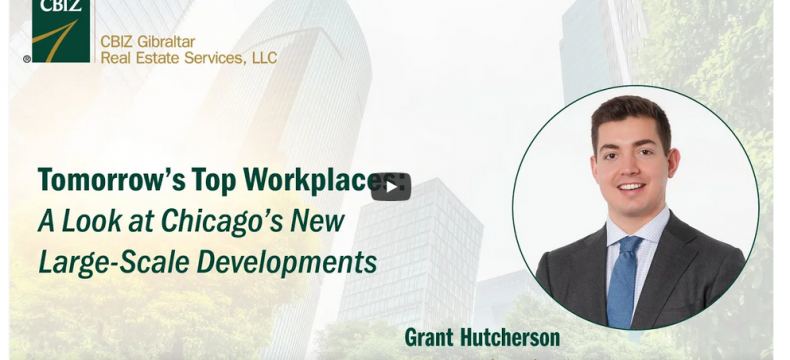 As companies continue to return to the office and welcome employees back to work downtown, many are surprised to look out and see so much progress on Chicago's major office projects that continued construction during the pandemic.
"The optimism around Chicago development remains strong," according to Grant Hutcherson, an associate with CBIZ Gibraltar. He highlights some of the hottest new developments that are leasing up in the central business district.
Check out some of the most desired workspaces set to open in the near future, including:
— Salesforce Tower is beginning to take shape since its groundbreaking in 2020 at 333 W Wolf Point Plaza. The 1.2 million sq ft is already 44.8% leased and expected to open in the Spring of 2023.
— BMO Tower stands 50 stories high at 320 S Canal Street, adjacent to Union Station. Already half leased, BMO will occupy more than 500,000 sq ft of the 1.5 million available. 
— Futon Labs is set to open later this year as the first life science lab space in the West Loop neighborhood. It offers tenants world class features and amenities with more than 400,000 sq ft of cutting edge workspaces for startups and established life science firms.Lincoln Yards by Sterling Bay, Bronzeville Lakefront by Farpoint Development and The 78 by Related Midwest also made the list in this short video: Tomorrow's Top Workspaces: A Look at Chicago's New Large-Scale Developments.

Are you excited to watch these projects grow? Are you looking for your next workspace?

CBIZ Gibraltar is the leading provider of integrated real estate services with a 100% commitment to advocating the interests and needs of tenants. . We are a conflict-free, experienced real estate advisory team that provides our clients with strategic Tenant Advisory, Workplace Solutions, and Portfolio Management services.